I survived a crazy week, and now I'm thinking ahead to new ventures. I managed to finish the fluffy purple scarf for my sister, and I also finished the Holiday Cowl I was working on, but it's too big! I'm pretty sure I'll frog the entire thing and start over, but I'm not mentally ready for that yet.
I've been trying to figure out what I want to do next. It's nearing the end of winter here in CA, so I don't know if I should squeeze in another wooly winter project, or plan ahead for the warmer spring/summer months. I've forgotten what it's like here this time of year, since 2000 was the last time I lived here in the winter. Does it suddenly become spring the way it does in Texas? I can't quite remember...
In any event, I've got my eye on this cute tank top from the new Rebecca: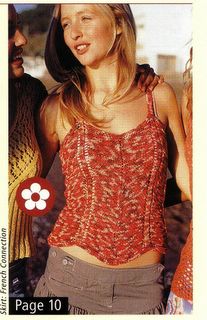 Chevron Top from the new Rebecca
Posted by Hello
I mini-swatched the light blue Lang Twin Color yarn I got on eBay a little while ago, and I think it'll work if I use US 7 needles. But, I gotta be mindful because this yarn tends to unravel and the shiny twist is very loosely spun so it's an easy target for snags. Love the look of it, though.
Finally
got my order of green coffee beans from Sweet Maria's! I ordered a 5 lb bag of the Sulawesi (my fav!), along with a few others to blend with. The Sumatra Iskandar and Organice Gayo Mountain, Ethiopian Harar (Horse), and the Brazil Peaberry Brauna Estate. I don't think I've ever roasted Brazilian coffee, so that should be interesting. I get why they call it 'peaberry' - it sorta looks like barley:
Beeenz, beautiful beeeenz!
Posted by Hello