Now I recall why I felt such relief when I graduated from college... it was HARD! And I don't know what made me think that I could absorb information at the same rate I did 10 years ago. Anyhow, I blame my aging (and throbbing) brain for the lack of posts.
I've been so busy studying for my Accounting class, which has confused me so much I haven't even *started* studying for my Business class! Yikes! I'm sensing trouble ahead...
I haven't neglected my knitting, though. Since my brain doesn't work after dinner time, I still manage to stitch in the evenings while watching TV. I'm currently working on two projects.
One is a vest that I've had my eye on for a while. It's a very
basic vest pattern
from Knitting Pure and Simple, which I purchased from Jimmy Beans Wool. This was my first order from them, even though I have had their site bookmarked for a while. I liked their site because I think their dogs are cute.
I decided to order from them because they had yarn on sale that was appropriate for this pattern, Rowan rowanspun aran. I chose color Husk because I figured a beige vest would go with everything. It does, but now I'm thinking it looks sorta man-ish. Whatev, I got Rowan yarn for 30 bucks (3 skeins), so that to me is a good deal.
The yarn itself is a bit scratchy, more than I thought it would be, and there are quite a few "organic" bits that I've had to pull out. You know, burrs and pieces of hay or whatever. There was a sharpie that really stuck my finger good. Oww! I would describe this yarn as "rustic", similar to Jamieson's if you've ever knit with that. Also super lanolin-y (my fingers had that filmy feel). Here's what it looks like so far:
Rowan rowanspun aran in Husk, 16 st = 4" on US 9 needles, ribbing done on US 7 needles
Posted by Hello
I've also been working on a sweater from the new Rebecca. No, not the super cute Wrap Sweater with Eyelets (though I will get to that at some point). It's the Sweater with Round Yoke #31.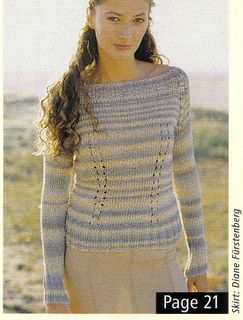 Sweater with Round Yoke from Rebecca 29, original yarn Illusion @ 15 st x 20 rows
Posted by Hello
I'm using the Lang Eve I got on ebay a while back. I'm not sure I like the mouline look of the fabric, but I'm having so much fun knitting with this yarn that I'm willing to continue and decide later if I like it. Eve is a really stretchy yarn that has been forgiving of my recent sloppy knitting. Hey, I'm tired at the end of the day!
Too bad you can't see the eyelets - it's really a cute pattern
Posted by Hello